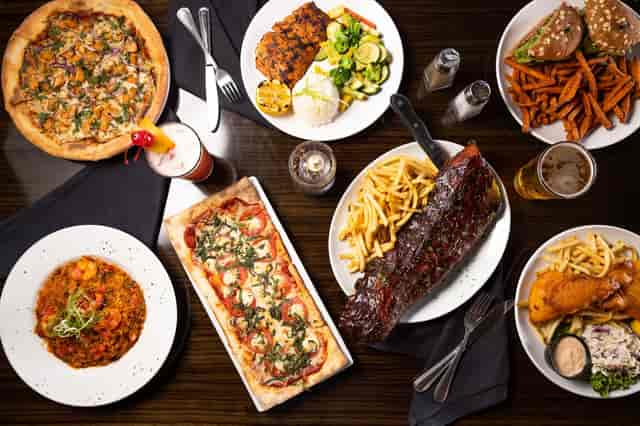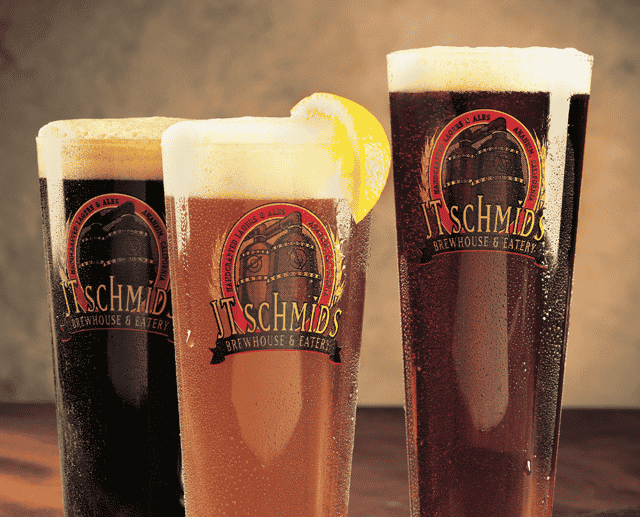 Main Menu
Become a VIP
Receive updates on special events, new menu items, menu reviews, and more!
Main Menu
Pizzas
Herb Crusted Gluten Free Crust - +$3
Sandwiches & Burgers
Classic Cheese Burger*
$13.95
Angus steak burger patty with lettuce, tomato, onion,
pickles, secret sauce on a toasted bun 

Toppings - $1 each
Bacon, fried egg, avocado, mushrooms, grilled onions,
sautéed onions, green chili, arugula, roasted red pepper,
jalapenos, chili, roasted salsa

Cheese - $1 each
American, Cheddar, Jack, Swiss, Gouda, Pepper Jack,
Bleu, Goat, Feta, Parmesan, Provolone
Favorites
Add a Cup of House Made Soup, House or Caesar Salad 4
Steaks & Seafood
All of our steaks are USDA Prime and Choice from Midwestern corn fed beef. Aged 28-31 days
Beer
JT's Handcrafted Beer
5 oz | Pint | 22 oz
BREWING HANDCRAFTED BEERS ON SITE IS OUR SPECIALTY!
We use only the best ingredients & stringent brewing processes
to ensure every batch is a palette pleasing experience.
5oz Pint 22oz DUMB BLONDE ALE - 3.50 | 6.95 | 8.95
This light bodied ale is golden in color with a smooth crisp finish. Our lightest brew (4.8% ABV)
HEFEWEIZEN - 3.50 | 6.95 | 8.95
Straw colored and cloudy, lightly hopped and garnished with a slice of lemon (5.2% ABV)
714 IPA - 3.75 | 7.95 | 9.95
A highly hopped ale brewed with Pacific Northwest hops producing a full flowery aroma (6.9% ABV)
EMIL'S AMBER - 3.50 | 6.95 | 8.95
Grandpa's very own. Rich malt amber colored ale balanced by fresh German hops (5.2% ABV)
IMPERIAL STOUT - 3.75 | 7.95 | 9.95
Aged with French oak - a full bodied and moderately bitter ale balanced between black roasted flavors and bold malt accents (8% ABV)
SEASONAL BEER ON TAP - 3.50 | 6.95 | 8.95
Please check with your server for our current beer on tap
Guest Draft
5 oz | Pint | 22 oz
REVEREND NAT'S REVIVAL CIDER 6% ABV - 3.50 | 7.50 | 9.50
AVERY "WHITE RASCAL" Belgian style white 5.6% ABV - 3.50 | 7.50 | 9.50
OMMEGANG HENNIPEN Farmhouse Saison 7.7% ABV - 3.50 | 7.50 | 9.50
STELLA ARTOIS 5.0% ABV - 3.50 | 7.25 | 8.95
HANGAR 24 ORANGE WHEAT 4.6% ABV - 3.50 | 7.25 | 8.95
BALLAST POINT SCULPIN IPA 7% ABV - 3.75 | 7.95 | 10.50
BALLAST POINT "MANTA RAY" DOUBLE IPA 8.5% ABV - 3.95 | 8.95 | 10.95
CHIMAY TRIPEL Abbey Trappist 8.0% ABV - 5oz pour 4.35 | 12oz pour 10.95
GUEST CRAFT TAPS Please check with your server for our current beers on tap
Bottled Beer
BALLAST POINT SCULPIN PINEAPPLE 12oz - 7.95
ODOULS NON-ALCOHOLIC 12oz - 5.95
CORONA 12oz - 6.95
DOS EQUIS 12oz - 6.95
BUD LIGHT 16oz - 7.50
STONE IPA 12oz - 7.50
COORS LIGHT 12oz - 6.95
GUINNESS 16oz - 8.95
CHIMAY GRAND RESERVE BLUE 12oz - 10.95
ST. BERNARDUS "12" 330ml 10.5% ABV - 12.95
LINDEMANS LAMBIC FRUIT 12oz 4% ABV - 12.95
UNIBROUE BLANCHE DE CHAMBLY 750ml - 12.95
DELIRIUM NOCTURNUM 750ml - 25.00
Wine
White Wines
Glass | Bottle
Pinot Grigio - House CA - 7.50 | 28
Sauvignon Blanc - Kim Crawford, New Zealand - 9.50 | 36
Sauvignon Blanc - Cakebread, Napa Valley - | 54
Fumé Blanc Ferrari Carano 2013, Sonoma County - 9.95 | 50
Chardonnay - House, CA - 7.50 | 28
Chardonnay - Hess Select, Monterey - 9.00 | 34
Chardonnay - Sonoma Cutrer Russian River, CA - 13.50 | 51
Chardonnay - Rombauer, Napa Valley - | 60
Chardonnay - Cakebread, Napa Valley - | 77
Sparkling Wines
Sparkling House - Split 10.95 | Bottle 36
Sparkling - Zonin Prosecco, Italy Split - 12.95
Sparkling - Moet Chandon "Imperial" - 75
Sparkling - Veuve Clicquot, France - 95
Sparkling - Dom Perignon, France - 250
RedWines
Glass | Bottle
Pinot Noir Angeline Pinot Noir, CA - 8.95 | 24
Pinot Noir Hahn Vineyards, Pinot Noir, Monterey - 10.50 | 38
Pinot Noir - Towmey Pinot Noir, Napa Valley - 68
Rose - White Girl Rose, California - 8.95 | 33
Malbec - Dona Paula Uco Valley, Mendoza, Argentina - 9.50 | 35
Merlot - House, CA 7.95 - 30
Merlot - Stags Leap, Napa Valley - 69
Cabernet Sauvingon - House - 7.95 | 30
Cabernet Sauvingon - Justin, Paso Robles - 14 | 53
Cabernet Sauvingon - St. Supery, Napa Valley - 45
Cabernet Sauvingon - SIMI Landslide, Alexander Valley - 57
Cabernet Sauvingon - Pine Ridge, Napa Valley - 79
Cabernet Sauvingon - Frank Family Vineyards, Napa Valley - 85
Cabernet Sauvingon - Silver Oak, Alexander Valley - 120
Cabernet Sauvingon Duckhorn, Napa Valley - 120
Cabernet Sauvingon - Silver Oak, Napa Valley - 200
Scotch, Whiskey and Bourbon
GLENLIVET 12 year 11.95
GLENLIVET 18 year 17.95
GLENFIDDICH 12 year 11.95
MACALLAN 12 year 14.95
MACALLAN 12 year Double Cask 16.95
MACALLAN 15 year Fine Oak 26.95
MACALLAN 18 year 33.95
MACALLAN Rare Cask 48.95
MACALLAN 25 year 175.00
BALVENIE 12 year 16.95
BALVENIE 17 year 25.95
CHIVAS 12 year 9.95
DEWARS 9.95
WALKER RED 9.95
WALKER BLACK 11.95
WALKER BLUE 35.95
JAMESON 9.95
JACK DANIELS 9.50
GENTLEMEN JACK 11.95
JACK HONEY 9.50
JACK DANIELS FIRE 9.50
JACK DANIELS SINGLE BARREL 13.95
MAKERS MARK 10.95
MAKERS MARK 46 13.95
BULLEIT 10.95
BULLEIT RYE 10.95
WOODFORD RESERVE 13.95
KNOB CREEK 12.50
SEAGRAMS 7 8.95
CROWN ROYAL 9.95
CANADIAN CLUB 9.95
BUFFALO TRACE 11.95
V O 8.95
BASIL HAYDENS 13.95
OBAN 11.95
Non-Alcoholic Beverages
SOLE ARTE sparkling or still - 6.50
REPUBLIC OF TEA FLAVORS: Pomegranate Green Tea, Passion Fruit Green Tea or Decaf Ginger Peach Black Tea - 6.50
M HOMEMADE ROOT BEER - 3.00
Prices and items subject to change. We use only trans fat free oil. Not all ingredients are listed in the menu description. Please ask your server if you have any questions or concerns.

*CONTAIN (OR MAY CONTAIN) RAW OR UNDERCOOKED INGREDIENTS. CONSUMING RAW OR UNDERCOOKED MEATS, POULTRY, SEAFOOD, SHELLFISH OR EGGS MAY INCREASE YOUR RISK OF FOODBORNE ILLNESS, ESPECIALLY IF YOU HAVE CERTAIN MEDICAL CONDITIONS